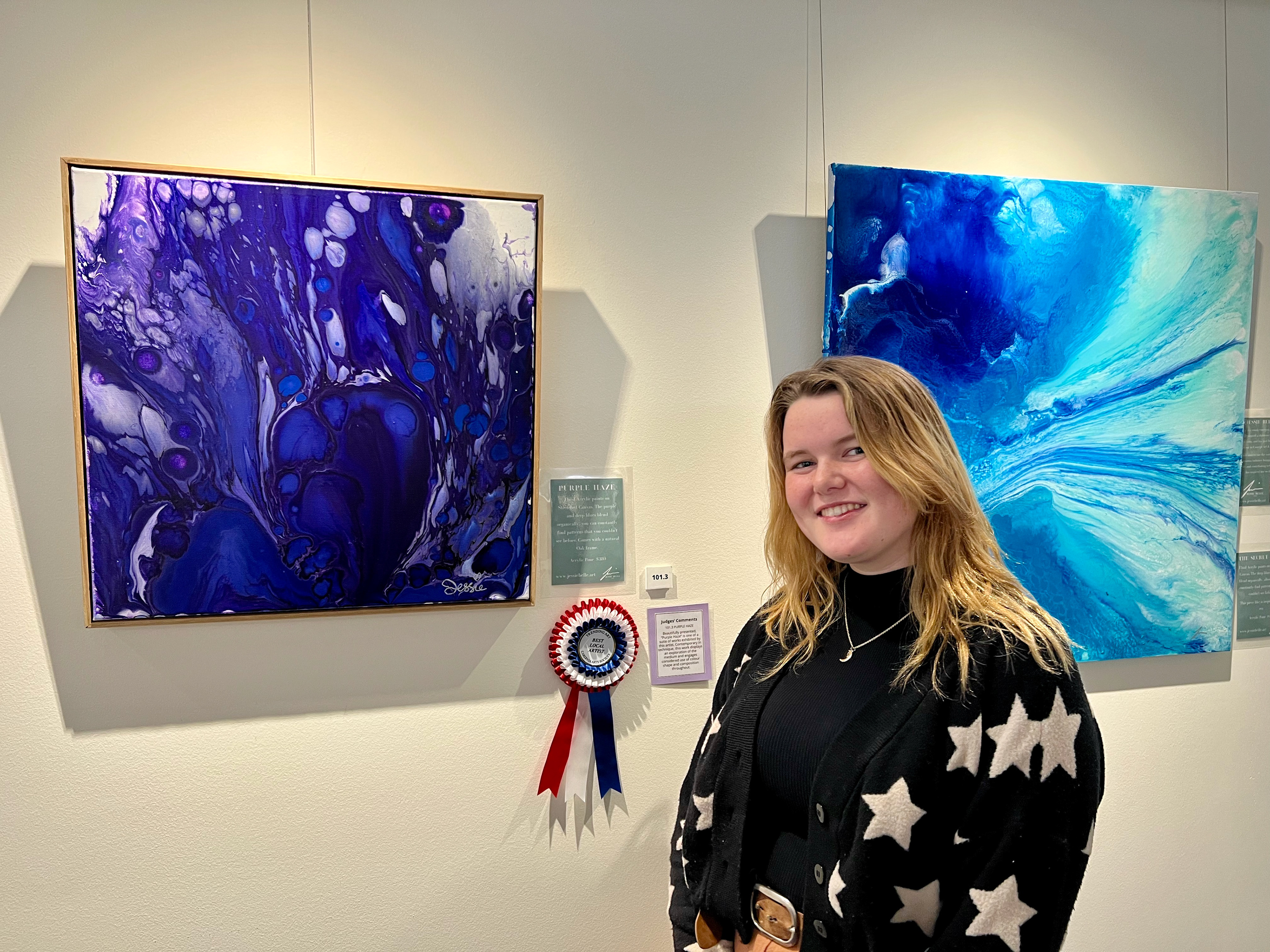 By Shelby Brooks for Star News
A local teenager has been crowned Best Local Artist at the 2022 Trending Art Show, exhibited at Pakenham's Cardinia Cultural Centre.
Fifteen-year-old Jessie van Loon of Beaconsfield beat more established adult artists with her acrylic flow piece called Purple Haze.
Jessie said receiving the accolade made her feel "absolutely incredible".
"I feel so honoured to have received that award at my age and would like to take this opportunity to thank the lovely ladies that spent so much time on the exhibition because they truly did a spectacular job with it this year," she said.
The judge's comments praised Jessie's efforts.
"This work harnesses a strong diagonal composition. Negative space balances against the mix of vibrant and subtle use of colour. This is a strong but harmonious piece," the judge's comments read.
Jessie completed a Diploma in Concept Art and Illustration during lockdown and is now working towards an Advanced Diploma. 
"It's been a massive workload for me because I've been doing my diploma and high school at the same time," Jessie said.
But the passionate young artist said her goal is to one day work in the animation industry and design the characters that you see in your favourite animated movies and TV shows. 
"But my (very highly ambitious) dream is to create an animation studio of my own, so that I can help to create a new generation of films that are made not only with love but are made to give children shows that inspire them to keep dreaming big," Jessie said.
Jessie showed artistic talent from a young age.
"I've loved art since I could pick up my first paintbrush," Jessie said.
"I love art because it is an amazing way to express yourself, and I love that art gives you the ability to look back at old paintings or creations from different times and recall the different feelings and emotions that went into that piece of art.
"Over the years my art has evolved in many ways, I feel that I have become much stronger in my drawing abilities and I have also developed new ways and techniques for creating my art.
"I love finding inspiration outside in nature, some of my favourite things to find are gorgeous flowers and plants that I can turn into Faeries!"
If you're interested in having a look at some of the things she has, check out her website jessiebelle.art
https://issuu.com/starnewsgroup/docs/2022-10-06_pn_635/1
https://pakenhamnews.starcommunity.com.au/entertainment/2022-10-05/young-artist-impresses/